Dogs Vs. Cats – The Epic Showdown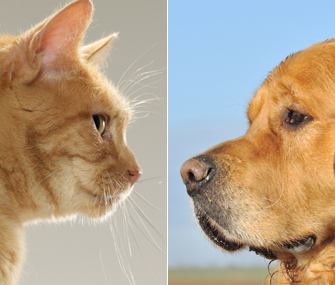 Dogs and cats are two animals commonly kept as pets at home. While both can be considered bundles of joy, it is a question of which is preferred more.
Uniquely, research has shown that cats require less maintenance, while dogs need constant attention. According to Ryan Ward, "dogs are better for younger humans that can give them enough affection. As Ryan is an inspiring dog lover, he thinks that the majority of Landrum would prefer dogs since they're much more energetic. Not only this, but Maya Tracetti also enjoys the company of dogs because "they have a better attention span and are much easier to train." In other words, although cats are known for being laid back and easy going, they are not always the type to be too vibrant. With all things considered, it should be mentioned that cats are easier to take care of and have in a house. Based off of Anthony Curtis' reasoning, he "loves living with cats because they are so sweet and calm, so you don't have to worry about them too much." Cats require less maintenance than dogs on a daily basis. For example, if a child has a parent who is not able to take care of an obnoxious pet, adopting a cat is the best road to take. However, the most common pet allergy happens to be with cats. Though this does switch things up, 6th grader Sophia Guenzler realized that "despite if your allergic to a specific animal, it should not change your honest opinion towards them." This also ties into how the personality of dogs and cats does matter in which is more superior to the other.
In the final analysis, it's quite clear that cats and dogs are both loveable creatures, and even better as pets. With all cards in play, it can quickly be concluded that despite which is a better companion, both have positive effects on the student here at Landrum.
Photo Courtesy of Vetstreet.com