Flo's Premium Ice Cream Review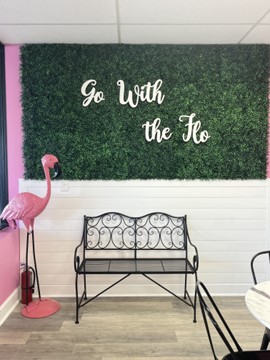 lo's Premium Ice Cream is one of Ponte Vedra Beach's favorites. The popular ice cream shop opened in 2021. Flo's Ice Cream has quickly become a Ponte Vedra hotspot with a fun, family friendly atmosphere. The name Flo's comes from the owner's grandmother Florence who was the inspiration for everything there. Florence had a love for ice cream and her love now gives joy to her community. The name is also short for Florida. The shop has a good location next to other well-known restaurants such as INoodle and Panera. The aesthetic of the shop has a cozy feel to it that welcomes you at the door. The interior sticks to the theme of the place, the pink flamingo. The entire shop is decorated with light pink accents to add to the playfulness of the place. They also have a green, floral wall with Flo's Ice Cream above to take a picture with friends to remember your wonderful ice cream.
Flo's has a wide variety of flavors, so when you go, it won't be a limited choice. Not only is there a wide variety, but their ice cream is also all homemade! The flavors change regularly, so you don't get bored of them. They are high quality as well, leading up to their 'premium' name. There's lots of seating, inside and outside. They have a very well-made movement system. They have you order in one spot then continue moving to pay. This creates a flow of people to keep it from getting jammed. When we were there the place was packed so keeping everyone moving was very helpful to get your ice cream as fast as possible. However, if you don't want to stay, they have ice cream provided in pints as well, so you can take it home! They have options for the holding of your ice cream, such as a cup or their homemade waffle cones. You can mix flavors in milkshakes or with multiple scoops, leading to not having to have a hard choice of his or that. Their staff was very sweet and fast working. Our cashier, Carstin, was patient and pleasant. The whole store was also clean and well-kept. When walking in, you're immediately greeted by a bulletin board full of art made by kids who went to Flo's. This helped show us how much they care about each and every customer. They also have a poster that shows the history at Flo's, so you know what you are paying for. Flo's is the perfect summer store after a fun beach trip to cool down.
Flavor wise, we ordered waffle cones, an ice cream sandwich, and a milkshake. Some of the flavors we got were cake batter, chocolate Oreo, and M&M. The ice cream was amazing and very well made. The quality wasn't cheap at all, and the ice cream was very rich and flavorful. However, don't worry if you don't like ice cream or have intolerances. They also have sorbets! They had orange and cherry when we went. If you go, we recommend Flamingo Tracks, which is their special flavor that's very similar to moose tracks. They have seasonal flavors as well and they decorate accordingly. For Christmas, they have peppermint mocha, for Easter they have an Easter basket flavor, and for the fall they have a pumpkin flavor.
Even though there were many positives to the experience, there were some aspects we did not like as much. First, some of the food did not meet up to our expectations. One of the items we ordered was a flamingo tracks milkshake. We enjoyed the flamingo tracks flavor, though the consistency of the shake wasn't great. It was a bit watered down and was not thick enough. Another food item we didn't particularly enjoy was the M&M ice cream and cookie sandwich. The cookie overpowered the ice cream, and the ice cream didn't have enough of an M&M flavor. Flo's also has very limited hours. Monday it is closed, Tuesday through Thursday the hours are three to nine, Friday it's three to nine-thirty, Saturday it is two to nine-thirty, and Sunday it is two to eight. The hours start very late in the day, and consistently change each day. This can make it hard to find times to go there.
Our time was very well spent at Flo's Premium Ice Cream. Though there were some negatives to the experience, the pros outweighed the cons. With good food, great customer service, and a fun environment, it's the perfect place to go with family and friends.