Dolly Llama Review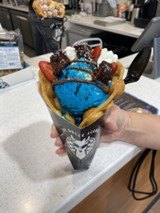 Ice cream is a classic favorite dessert across the world, perfect for hot summer afternoons when you get the urge for a cool, sweet treat. Contrarily, waffles are considered a morning food, enjoyable at any temperature all year round, though particularly satisfying when it's cold outside. As you can see, these two desserts are rather different but delicious when served together. The ice cream store Dolly Llama has combined the two to create an amazing dessert.
Located just one block south of the Sawgrass Country club in Tournament Plaza, you can find The Dolly Llama. There are seven of these shops nationwide, though ours here in Ponte Vedra is proud to be the first to be opened outside of Los Angelos. When this shop first opened in early September of 2022, everyone wanted to get a taste of their iconic "Bubble Waffle," and "OG Liege," along with their more basic ice cream options, making it very crowded. Therefore, we have not been able to pay the shop a visit since just recently. Luckily, it was worth the wait.
As we approached the shop, we could see the Dolly Llama logo above the door, a fun white llama with a pair of blue shades on, as well as a few tables if you want to enjoy your snack outside. Once through the door, we were greeted by the only employee working, who was the owner, Josh. Taking in the beautiful shop, we noticed the llama painted on one wall beside the menu, which had every option that you could wish for from an ice cream shop, from milkshakes to extravagant specials. The customer service was excellent, as Josh was friendly and attentive. We ordered two milkshakes, a basic waffle cone with mint chocolate chip, a "Bubble Waffle," and an "OG Liege." Josh quickly put together our order and we paid seamlessly using their modern payment system.
Of course, it is hard to go wrong with a milkshake or a cone, which were both amazing, but it was the Dolly Llama specials that we were intrigued by. One of Dolly Llama's most famous desserts is the Bubble Waffle. From the pictures that we had seen previous to our visit, we were expecting the waffle to be more like the classic ice cream cone. However, the waffle was soft, and had a consistency like cake. The presentation was amazing. We had the cookie monster ice cream topped with strawberries and brownies. The cookie monster ice cream flavor is the most popular flavor, so we had to try it. Josh informed us that the ice cream is vanilla base with cookie and Oreos mixed through it. The beautiful presentation made me not want to ruin it. Though it was delectable, it was very filling. So, getting multiple items on the menu would not be ideal.
Next up was the "OG Liege," once again in the Cookie Monster flavor, a smaller liege waffle with a scoop of ice cream, chocolate drizzle, brownie chunks, and strawberries on top. It was a little bit difficult to eat, as all we had was small, plastic silverware, but it wasn't a problem at all. It had the perfect combination of soft, warm, and crunchy. It is served in a small cardboard dish that contains the melted ice cream and the mess well. This allows you to easily throw away your trash and leave as you please. We would recommend the "OG Liege," if you decide to try out Dolly Llama.
The origin of this cherished store opening in our town starts in California. Josh's son would go to school every day and would come home with waffles that we now know as the OG Liege and Bubble Waffle. The son would get them from a girl at his school. Josh contacted the girl's parents, and they started making waffles together on weekends. When Josh moved to Jacksonville, he asked if he could open his own Dolly Llama. After they agreed, our store here in Ponte Vedra was able to open.
In conclusion, the Dolly Llama Waffle Master is an easily accessible, lovely place to eat with a great menu filled with ice cream options. The only drawbacks are that the food is highly calorie dense and unhealthy, as well as expensive, though, that applies to many ice cream shops. If you are looking for a once-in-a-while place to get high quality dessert, Dolly Llama is the place for you.