Best Local Ice Cream!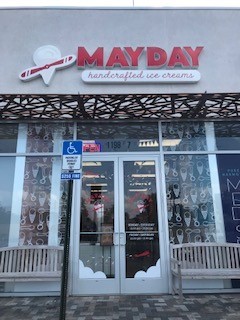 We all know we have good local ice cream shops, but the big question we've all been wondering which one is the best? We went on an ice cream journey to find the best local ice cream.
First, we went to The Sweet Spot. The Sweet Spot is a wonderful place to get a cool treat with your family. It's very white and modern…a little too modern, and although it's new when we walked in, we got the smell of wet paint instead of a tasty, sweet treat. It had a wide variety of Ice cream flavors. We tried Graham Central Station, that was recommended to us by a genuinely nice employee. It was unbelievably delicious although it had a very odd crunch too it. The inside was a little weird though. They sold more than just ice cream, they sold things like cups, candy, milkshakes, and… Sonic the Hedgehog backpacks? Overall, we really like this place, I mean besides the unnecessary backpacks. The Sweet Spot has a good stand in the best local ice cream shop.
The next place we visited was Mayday. Mayday is owned by Stephen Dimare and has 4.6 stars online. The moment we walked inside, we were amazed by the adorable decorations. They had a pilot theme that was noticeably clear. It was exceptionally clean and smelled incredible. They didn't only sell ice cream. They also sold many other treats including coffee, tea and cake. They had a wide variety of flavors including Queen Salted Caramel, their most popular, and Cookie Crush, the flavor we chose. Each ice cream comes with a choice of free sprinkles and a cinnamon cookie. The cookie was delicious, and the sprinkles added a nice crunch to our ice cream. The Cookie Crush ice cream was packed with Oreo cookies and frosting. The employees were genuinely nice to us and gave us a wonderful experience. The only downside of Mayday is that it is small on the inside and kind of crammed. Other than that, mayday was incredibly good!
The last place we traveled to was Flo's. When we first walked in, we were impressed by the amazing smell of ice cream and all sorts of other sweet treats. The décor in Flo's was ridiculously cute with their theme of flamingos. We got the Birthday cake ice cream which I have to say was not amazing, I did like that it had sprinkles in the ice cream though. The service in Flo's was a little odd, when we asked for an extra cup the employee said, "I can do the spoon but not the cup." That seemed very weird to us, it's just a cup. We also figured out that Flo's opens at a very weird time, 2:00 p.m. What if you just finished your big game at noon and were so excited for your favorite ice cream, but it does not open until 2:00! Flo's was a good local shop.
Sweet Spot, Flo's and Mayday are wonderful places to enjoy a frozen treat. They all have their downsides, but we enjoyed visiting all three of these wonderful spots. In all, we felt that Mayday is the best local ice cream shop because of its cute décor and tasty ice cream.