T&N Nails: A Review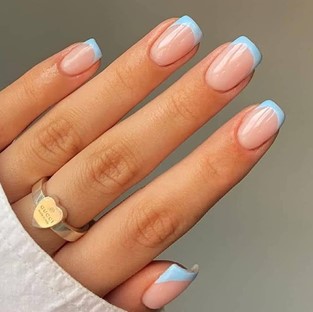 T&N Nails is a nail salon located in Ponte Vedra Beach, Florida. T&N Nails is owned by two Vietnamese women named Tina and Nancy. Tina's daughter was also in the salon helping. They are sophisticated and great at what they do. They were also very welcoming and made the whole experience better.
We went to the salon at 4:00pm on Sunday and left at 5:30. When I (Clara) walked into the salon, they offered me a seat and drink before they started. Then Val walked in, and they started our nails right away. Tina did my (Clara) nails, and Nancy did Val's.
They had a variety of different colors and shades to choose from. They also offer a variety of services. The salon did not excessively smell like nail polish and chemicals which was great. It was also clean and tidy inside. While doing our nails they supplied entertainment on the TV. The channel that was playing was HGTV. Although that is a great channel not all people enjoy watching it. They also played calm instrumental music in the background.
Tina and Nancy were dressed very nicely and looked very professional. The process of doing our nails took around an hour and a half. Tina and Nancy were very precise when doing our nails, and they were also very focused. First, they started off by prepping our nails. They did this by filing them and removing any leftover nail polish we had on. They then went ahead to use a type of machinery that would go on our nails to make them easier to work with. My (Val) lady Nancy tried making conversation and needed a reference photo for my nails.
After I showed her the picture, she at once got her supplies and got to work. She put on some clear substance and got the nail glue, then got the fake nails. Since my (Val) nails were very short I would not have been able to get design, I wanted without getting fake nails. Clara and I got SNS dipping powder and tips. SNS is identical to regular dipping powder, however, it is way better for your nails because it is organic. After that she filed my nails with that machine to get the fake nail and my real nail even. She tried talking with me (Val), but she didn't want to get too distracted, so after a bit we stopped talking.
Then I (Val) started watching the TV which had HGTV on which I enjoyed but others might not. The process went very quickly, and it was almost identical to the picture I had shown Nancy, but I liked mine better. I (Val) could see Clara's nails and they looked amazing she asked for more of a design and I just wanted blue French tip nails. After I was finished, I heard Clara and her nail tech Tina communicating very well because her photo that she showed had white and Tina was going to go over her blue tip with white but couldn't do it, but Clara didn't need them. She told Tina it's okay not to add the white in.
Overall, I would rate my (Val) experience a 10/10 because I loved my nails and Clara rated hers an 8/10.