Foxtail for Coffee and More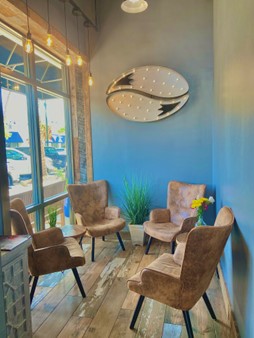 Foxtail Coffee Company is a local favorite here in Ponte Vedra Beach, Florida. Located near Nona Blue, the Sawgrass Publix, and Peterbrooke Chocolatier. They serve a vast array of delectable bites to munch on. From ice cream to coffee, they have it all.
Even their interior design is sensational, it has a very homey feel that is relaxing to the eye. From the moment you walk in, to the moment you go out, you feel delighted. When you walk into the gorgeous atmosphere you can smell the aroma of the coffee. To your left there are a couple of tables to sit at. On your way to the counter there are shelves stocked with their mugs and merchandise to buy. There is also a freezer filled with their homemade ice cream. Located near the back is personally one of our favorite rooms. A cozy separated area with comfortable chairs where you feel content.
The story behind foxtail has a very fascinating meaning to it. This quote from their official website says, " Foxtail Coffee Co. is dedicated to responsibly sourcing some of the finest coffees from around the world. Our company upholds its ethical and quality standards by making sure these environmentally-friendly farms are paid fair wages, so they may continue to grow exceptional crops." Like this quote says, they are trying to make the world of farming a better place.
Inside the store they sell a variety of sweet and savory items with lemon loafs and ham and cheese croissants, they have something everyone will love. Inside the Ponte Vedra Beach, Sawgrass location they also serve delicious and creamy Kelly's Ice Cream. They also had very nice workers, but got one of our orders wrong and changed the taste of the coffee all together. When you amble in, there is a welcoming whim and wonderful employees Above their head's is a well-designed chalk board with their menu on it, and small menu's for pastries on countertops, to look over while you stand by in line. When we ordered we were delighted with the exchange we had with the nice workers. Also, they take both cash and card. Additionally, there's some coffee shop music playing on low so you can still have conversations. While you wait for your food and drink there is a quaint little corner with soft chairs where you can sit and relax, or once your food comes, you can sit and chat either inside the store or outside. There are lots of tables and chairs outside, where you can enjoy the prepossessing view.  Also, the service is quick, so if you need a coffee before work or school and are in a hurry, Foxtail is the place to go.
It is a great place to meet up with friends to hang out. Also it is local to the Florida and Georgia area, with a total of thirty-six different locations. Mostly, all of them have the same small coffee shop experience. The original Foxtail Coffee Co. is in Winter Park, Florida. Foxtail is also a perfect place to do some homework by yourself or with friends because of the quiet and peaceful ambience. Children also would love it, because they can have a small amount of sweet, yummy, ice cream, and treats. Kids can also run around in the grassy patch outside nearby the small shops. It is also a wonderful place to meet up with colleagues, because there are nice seating arrangements to sit and talk about work, while sipping the wonderful coffee that keeps you and your brain awake for your assignments.
All in all, it is a wonderful place to meet up with friends, get a little snack, and even just take a break from reality. We really enjoyed the store even though one of our orders were messed up, we loved to nice customer service and just the overall appeal of the inside and outside of the shop. We will definitely consider going again and I would love to introduce it to people who haven't tried it either. Their coffee is delicious and they have sweet and savory small snacks when you need a little pick me up. Foxtail is a great place to go and visit and we would highly suggest it, and we would probably rate this business a four and a half out of five stars, because of the order mess up, but other than that it is a great place to go. Thanks for giving us a great experience.