The Sweet Spot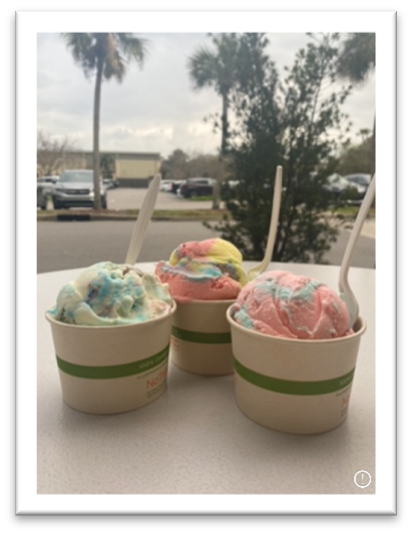 The Sweet Spot is a new ice cream store in Ponte Vedra Beach, Florida. They have over thirty different flavors to choose from, and even have milkshakes made from any flavor of ice cream you want.  The Sweet Spot is open from 12pm – 9pm on Sunday to Thursday and from 12pm – 10pm on Friday and Saturday.
We visited The Sweet Spot and found that there are many pros and cons to going there for ice cream. When we went to The Sweet Spot, they had so many flavors to choose from and we got a milkshake and an ice cream. We ordered a chocolate milkshake and cookies and cream ice cream. The ice cream is amazing and has many toppings to put on it, but the milkshake came very melted and was much more like chocolate milk than a milkshake. The location of the store is great because kids can bike there, especially during the summer months. We found that the inside of the store was too white for our liking. Everything was white including the counter, walls, floor, and ceiling. It looks more like a gift shop inside than an ice cream shop. There are cups you can buy, bags of candy, and even backpacks.
We have gone to The Sweet Spot before with some of our friends that are allergic to nuts, and they don't have any allergy warnings in the store. We were told to look online to find the ingredient lists. Many ice cream stores that we have been to before have warnings for common allergies like eggs, gluten, and nuts. As well as the ice cream they have drinks called "Super Shakes." These drinks are milkshakes that have special toppings like cookies, cake pops, and candy. We thought that these "Super Shakes" were very overpriced as they were $17 for one and are only the size of a jar. Although you can keep the jar once you're done with your milkshake, we didn't think it was worth the money. The ice cream is $5.99 for one scoop, $7.99 for two scoops, and $8.99 for three scoops. As for the normal milkshakes, they were $7.99 for a small, and $9.99 for a large. They also had on their menu specials like affogato, banana split, and ice cream nacho. When we went to The Sweet Spot it was not crowded at all and we got served right away. The staff had samples for you to try if you were on the fence about flavors and were very helpful.
Everything considered, we thought that The Sweet Spot is a good ice cream store for people wanting only ice cream. If you wanted to get a milkshake or if you have allergies, you may want to reconsider going to The Sweet Spot. The service is amazing, and the people are sweet, but the inside of the store doesn't feel very welcoming and happy. The Sweet Shop is in fact sweet and a good place to go if you're looking to cool off on a hot summer day. We will be going back and are happy to see The Sweet Shop doing well after opening a few months ago.
Enjoy another review of  The Sweet Spot
Ice cream is an extremely popular treat here in Ponte Vedra Beach, Florida. For most of us, our go to place was "Christy's Dream" in Sawgrass Village. People have been going here for years. It was so easy to get to after a long, hot beach day. Sadly, Christy's Dream closed in early January. It was an extremely well-run business with food, service, and value ratings of 4.5.
After the closing of "Christy's Dream" another ice cream shop opened called "The Sweet Spot." This place has some huge shoes to fill. We all thought of Christy's as a comfortable environment for everybody to spend time with friends or have a sweet treat with your family. Can we do this with The Sweet Spot? Our group went out to put The Sweet spot to the ultimate test.
As we stated, the location of this place is amazing. There are tons of restaurants around so after you are done eating you can grab ice cream. There is also a bunch of shopping around so if you are spending a day out shopping you can get a few scoops of ice cream. This place is remarkably close to the beach, so if you spend a scorching summer day on the beach you can get a cold sweet treat.
We could tell the place was new. It was not our Christy's, but they did have some cool stuff. All along the shop's white walls, there were tons of colorful items like cups, backpacks, candy, and stuffed animals. There was lots of outdoor seating, though there were few seating options available inside. A cool feature that the shop offered was fillable candy bags, that you could fill yourself.
As soon as we walked in, we were greeted by the two employees, Amiah and Daniel. There was nobody in the shop when we walked in, so they were just cleaning up. While we were picking out our ice cream they patiently waited, and we did not feel rushed. They were both so sweet and provided great service. We got all three of our ice creams within a few minutes. They took both cash and card, making a nice and easy checkout.
Now let us talk about food. They had a diverse amount of ice cream flavors to choose from. We tried birthday cake, crazy vanilla, and cotton candy. As a group, we all decided that birthday cake was the best flavor. It tasted different than other birthday cakes that we have tried in the past. The fact that it looked as delicious as it tasted helped too! The scoops there were noticeably big, but they got pricy. For one scoop it was $6.99, for two it was $8.99 and for three it was $9.99. Just like Christy's, there were no toppings! The huge cones make up for it though. They had either bowls or cones, the price only depended on the number of scoops you get. Another bonus of this new place is that the cups are compostable! Besides ice cream, there is a whole new treat at this new place.
"The Sweet Spot" is known for their crazy milkshakes! They call them "Super Shakes!" Now these shakes really are super! There are so many assorted flavors and toppings for the shakes, but when we went, they did not have all the supplies needed to make one. Once the place is fully opened these will be a tasty treat. The downside is the price. This will not be something you can get on a regular basis because it is so expensive. It is a whopping $16.99! These prices can affect some buyers' choices to come.
So, did "The Sweet Spot" pass our ultimate test? We say it did! The location is nice and easy to get to and it is in a popular spot. Although I do not think anything can ever replace Christy's, this is a good shop. It may be simple inside, but they sure do have some good ice cream. The shakes look wild and crazy, but the real question is, are they worth the price? One day we will need to find out once completely opened. They have some flavors I have never heard of and that I hope to try in the future. We believe once this shop has some more time to open, it will be a suitable place to have some ice cream and hangout after a long day!
Please read another review of The Sweet Spot
Recently, the beloved ice cream place Cristy's Dream has closed, and it was replaced with a new ice cream place called The Sweet Spot. Many locals became upset with this new change and believed Christy's was better. It is unsure as to why Christy's closed, but a new and unique ice cream place has opened for the locals of Ponte Vedra Beach.
This ice cream place is located in the Sawgrass Village Shopping Center so make sure to go try it out for yourself. It is so important to support our local businesses for our own community. It is a great experience if you love trying new and eccentric ice cream flavors and milkshakes, and it is a great after-dinner place for a sweet treat.
Our experience: After learning about this change, we went to The Sweet Spot and tried out the ice cream and got a feel for the environment for ourselves.
(The Sweet Spot shown on left and Christy's Dream on right)
The new space was a big change. They took down the homey feel of the shop and changed it to a modern, typical ice cream shop. As soon as you walked into Christy's you felt as though you were going back in time. Now it is just like walking into your average ice cream place. The inside does not have as many seating options as Christy's because they replaced seating with a toy section where you can buy stuffed animals with the food. This place is relatively new so from what you can tell they are still adding new and different things to the shop. There is candy options in the place that you can also buy with the ice cream just like a real candy shop.
Although The Sweet Spot may not be as welcoming, it has more variety in flavors and has even created new and different milkshake flavors. But we did find ourselves paying almost double for the same amount of ice cream. The milkshakes cost $17 when they used to cost half of that. They come in specially made mason jars with the Sweet Spot logo and you even get to keep them once you leave. They make a lot of flavors with unique designing with the ice cream. They make it a cool experience. Also, The Sweet Spot is kept very clean and well maintained throughout the day. When we were there the place was kept spotless and very tidy. They make sure you feel comfortable and have a clean environment while eating. While there are not many seating options inside, there is a lot of seating outside. There are only 2 or maybe 3 tables inside, but outside there are a numerous amount of tables.
However, the ice cream in The Sweet Spot was lacking that strong, rich, and creamy flavor. We do not know if we maybe just got a bad batch, but for the price, we were expecting a better, a rich, and creamy flavor. A regular scoop of ice cream tasted plain and there was nothing special about. It just tasted like normal ice cream you could get anywhere, like the ice cream isle in Publix. Especially for the price, a scoop of the ice cream in The Sweet Spot is just mediocre.
PRICES
For one scoop of ice cream, it costs $5.99
For two scoops of ice cream, it costs $7.99
For three scoops of ice cream, it costs $8.99
The super shakes and sundaes cost $16.99
The prices for the different deserts you could get are shown above. The prices are expensive for just ice cream and milkshakes. But even though they have their downs, we think it is worth it for the experience and for a nice treat after dinner. They always have great and quick service and the workers serving you are just the sweetest people ever! This place is very accessible to all the people of Ponte Vedra Beach because it is located in a great spot with lots of parking options. The Sweet Spot is located near so many great restaurants and is a quick trip from all accesses to the Beach. It is also close to many neighborhoods like Sawgrass TPC and Sawgrass on the beach side, Fiddler's Marsh, and Marsh Landing.
Overall, The Sweet Spot is a pretty decent addition to Sawgrass village and the community. We recommend that you go try The Sweet Spot out for yourself.