We All Scream for Ice Cream!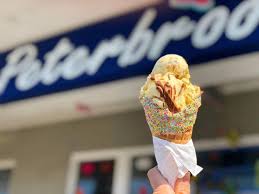 Railey Player and Katie Kelly
February 5, 2020
Ice cream. Is that a request or a statement? We all know the answer is usually yes! But which store should you choose?Researching the best ice cream in St. John's County was not the hardest assignment this reporter has ever been assigned, but who cares?
Lets begin with Christy's Dream, a great local hangout spot for you and your friends, while Peterbrooke has rich and creamy gelato, and Kilwens has over 42 flavors, and Coldstone you can mix your own ice cream, Christy's Dream is the most popular ice cream shop, according to Landrum students.
Christy's Dream  has 33 kid friendly flavors and 7 flavors just for the adults. At Christy's Dream you can experience the Rugrat, which is a single scoop for $3, Average Joe, which consists of about three scoops for $6, or you can mix your favorite flavors and toppings to make a milkshake for $6. Christy's Dream does not offer cones, but they feature pretzels with the ice cream, which gives the ice cream a nice salty taste.
"Each flavor has their own personality with their own names and combination of flavors," according to local student Penny Zarczynski.
"Christy's M&M ice cream is unique but delicious," according to another local student, Abby Shupler.
Peterbrooke is known for their gourmet chocolate, but they also sell gelato. Peterbrook has the lowest popularity percentage of 9% out of all the students polled. They only offer 13 flavors at at time in the shop. The ice cream at Peterbrooke has real, fresh flavors including real mint in the mint chocolate gelato and real vanilla bean in the vanilla gelato. There are two sizes of bowls to choose from and multiple different cones. The smalls are $4, larges are $4.75, and cones are $5.75. Even though there are many pros at each ice cream store, there are also some flaws each store makes. For instance Peterbrooke does not offer all their flavors at all times which can lead to very unhappy customers.
Kilwins was the second most popular ice cream shop with 18% from the Landrum students poll featuring 42 different ice cream flavors in store. One thing Kilwins does that is unique and different is that they make there own cones in the store.
"Kilwins cones are so flavorful and good and I love the sprinkle cone," stated 7th grader Kate Polian, "But I don't think the ice cream is as fresh as the cones," Kat added.  Prices are reasonable with a single scoop of ice cream is $3.74, a double scoop of ice cream is $5.50, and a quart of ice cream is $11.95.
Last but not least, Coldstone, with 16% popularity by Landrum students polled. At Coldstone you can pick your own flavors and toppings together for your own unique ice cream to be made right in front of your eyes.
"I like that at Coldstone you can create your own ice cream," according to Penny Zarczynski. At Coldstone the a small "Like It" is $4.19, a regular "Love It" is $4.79 and a large "gGtta Have It" is $5.49.  If you choose to have your ice cream on a cone than a plain cone is $0.99, or a dripped or sprinkled cone is $1.39. In addition if you wanted to mix in topping with your ice cream the first topping would come free any additional topping would be $0.89 a piece.
"The vanilla ice cream tastes too artificial and heavy," acknowledged customer Laura Player.
All things considered, Christy's Dream is the crowd's favorite ice cream shop in town according to most Landrum students. With it's cozy atmosphere and unique flavors it was sure to take over the crowds attention.  Peterbrooke is the least favorite ice cream shop also according to Landrum students. This is due to the fact that its known for its chocolate. The shop also lacks exposure outside of Ponte Vedra Beach and Jacksonville. Kilwins and Coldsotone are nation wide favorites that everyone still loves today, but are not as popular as the cozy local shops. So, for Landrum students the answer is "Yes!" they want ice cream, please.