Can't decide on electives? We got your back!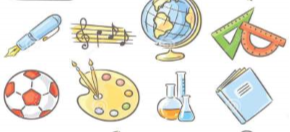 Micha Gilvarry, Rachel McManus
February 5, 2020
Your 8th or 7th grade year is inching closer and closer and you may be wondering what electives you want to take next year. Were here to help. There are many choices and were here to inform you on what you do in these classes.
School is going by pretty fast and you may be thinking about your  electives for next year already. For 6th graders this is more exciting as you finally get to pick your classes. 7th graders have gone through this already and know what they really want to do now but if you still don't know this  article will hopefully  help you make your decision. Landrum offers the electives of  PE, Theater, Art, Journalism, Band, etc.. You may not know much about these electives but this article can help you choose your three electives for next year.
PE is a exciting elective which lets you have a recess in middle school. PE is the only elective you have to change into different clothes. They have two locker rooms, one for each gender.  If you're not comfortable in changing in front of  other people then you could got to the bathroom to change. You could decide to not dress out but that will lower your grade slowly but surely. Each day you get to do a new activity this includes mostly open gym which is where you get to do any activity you want, also you get to play football, soccer, and basketball.
"Sometimes we go outside and run track which one of the benefits of running the track is you can get it over with fast and you get free time with your friends after," said Kate Polian. Some other students think that PE is like recess for middle school.  A few students also find it helpful to go outside and play because it helps them focus in class.
Band is a fun experience but can also be a hard one. Band is a place where you get to choose your own instrument and be around friends. According to  Maya Jones she feels as if it were a second family," Being in band is like being in a second family. We all love music and we all love playing together."  She also believes learning  how to read music can help with other aspects of your life. Learning how to play a instrument can be tough though and you get graded on how you play during playing tests. Concerts can also be stressful, but you'll soon realize that if you practice hard enough they become easy and fun.
Now we will move on to art. Art is a great break to a very stressful day. It is a time to hang with friends, and work on one of  your hobbies. Art is a pretty easy subject to take and your not judged  on your art skills. You get projects every few days and after your done with them you get to sit and chat with friends. Olivia Baldwin says that she loves art because, "It is another way to express yourself."  We also had a Alexandra Lin give her opinion on this subject, " I believe even if you don't like art is a fun subject to do because its like a free period."
Theater is a very expressive subject.  It's a subject where you get to act in front of other students and enjoy yourself. Its best if you don't have stage fright because, if you do have stage fright you  may not enjoy it as much. Julianna Grub states, " Theater is a fun, and welcoming place." So even if you do mess up nobody will judge you. This elective is a great place for beginners to start because Mrs.Fisher the Theater teacher just wants to help you improve.
Spanish teaches you a new language and culture. In this class you learn how to understand, write, and speak Spanish. Michelle Abboud  says, "I would recommend  this class because it is very interesting to learn a new language." You also get to go on field trips to see Spanish dances. This is a fun experience you get to do with friends and it gets you out of school for a day.
Finally, Journalism teaches you to interview and write for the school newspaper, design layouts and take pictures for the yearbook, and create videos and documentaries for ROAR TV and C-SPAN.
Which ever elective path you choose is based on your personal passions. Landrum has many to choose from so choose wisely.