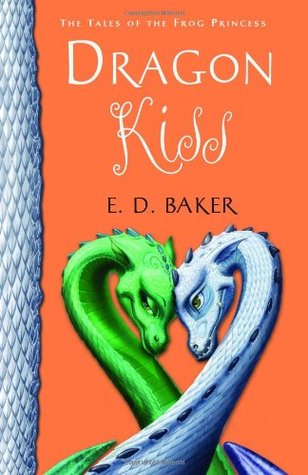 Photo courtesey of goodreads.com
Chaos everywhere. Papers scattered left and right, pencils dull and erasers bare. This is the life of a writer. Among the people whom share this lifestyle is E.D. Baker. E.D, or Elizabeth Dawson, Baker is a children's fantasy writer. She has written twenty-five books and counting, and also explained she has no plans to quite writing anytime soon. Some of her books include The Wide Awake Princess, No Place for Magic, and the award-wining Once Upon a Curse: Tales of The Frog Princess, and No Place for Magic.
Baker was born in Buffalo, New York. She then moved to Tonawanda. Baker started writing in third grade, and this was when she discovered her love for writing. In junior high, middle school in some states, Baker decided she wanted to be a writer. Baker attended and graduated from Allegheny College in Meadville, Pennsylvania with a bachelor's degree in psychology. While in college, Baker married her husband. A few years after graduating, Baker gave birth to a son and a daughter, and when her son was four, Baker moved her family to Maryland. Baker started working part time in her husband's business and continued to take care of her children at home. It was around this time Baker enrolled in the local community college and started taking writing lessons. She continued taking classes after the birth of her second daughter. Soon after though, Baker and her husband divorced. After the divorce, Baker went back to school. She enrolled in SIMAT, the School Immersion Masters in the Art of Teaching program at John Hopkins University in Baltimore, Maryland. After graduating, Baker went on to teach fifth grade. Her son also graduated college around this time. Soon Baker's parent's health started to fail. She and her two daughters picked up and moved north so she could be closer to her parents. Baker did not go back to school. E.D. Baker now had a new perspective on life. She decided it was time for her to devote her time to writing books.
For many years before this, Baker always wrote for fun. She also wrote stories for her children. When her children were very young, Baker tried for the first time to get her story published. She edited, re-wrote, edited again, and re-wrote the story before sending it in. The story though, never made it to the shelves and it collected many rejection letters.  This was when she gave up and tried her hand at other stories. Baker attended many writing conferences in between writing, school, and being a mother. In 2001, luck was on Baker's side when she attended another conference and met an associate editor from Penguin Books. Baker sent the editor her manuscript, or a hand written book, and hoped for the best. Unfortunately, she did not hear from the editor for many months. One day, the editor called Baker and said she was interested! The editor explained she was currently with a new publisher and she wanted to publisher her story. In 2002, Baker's first story, "Once Upon A Curse, Tales of the Frog Princess." Was published. Baker then continued to write fantasy for children, specifically for girls. "I started writing fairy tales because I didn't like the way the heroine was portrayed in the traditional tales and wanted to write about a strong princess who could take care of herself." Baker explained. She has written many books after, but she didn't only write fantasy during her writing career. Baker also wrote science fiction for younger readers she hopes to get published one day as a graphic novel. Baker's first book, the Frog Princes, won many awards.  Some of the awards included the Texas Lone Star Reading List Book, and a 2006 Sasquatch Book nominee. The book was also a Book Sense Children's Pick and a Florida's Sunshine State Readers List pick.
Baker currently lives on a farm in Maryland and breeds horses. Baker still finds time to write and manage her farm. Baker also explains she has no plans to quite writing anytime soon.
-30-